Red River Farm Network

Programming: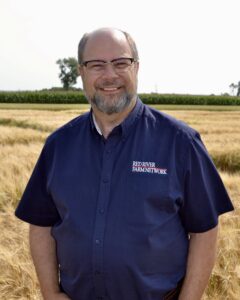 Don Wick  President, Farm Broadcaster and Advertising
Don Wick is proud to be a farm broadcaster, a career that began in 1982 at a small radio station in Wabasha, Minnesota. Through the years, Wick worked at mega-stations, like WCCO in Minneapolis and WNAX in Yankton, South Dakota. In 2003, he joined the Red River Farm Network team and is now the company's president.
As a journalist, Wick has reported from Cuba, China, Russia, Japan and throughout Europe. In 2010, he put on a flak jacket and traveled with Agriculture Secretary Tom Vilsack to Afghanistan, highlighting agriculture's outreach within a warzone.
In 2018, Wick received the ultimate honor with his induction into the National Association of Farm Broadcasting Hall of Fame. Wick was NAFB's president in 1997 and was the National Farm Broadcaster of the Year in 2004. In addition, he was part of the first class inducted into the Minnesota FFA Hall of Fame in 2004 and walked across the stage at the National FFA Convention to receive his Honorary Degree. Wick is currently a member of the Minnesota AgriGrowth Council board of directors.
Don and Kolleen have two sons, Tony and Sam. They are also proud to be grandparents to Aiden, Piper, Adrienne, Aurora and Sterling.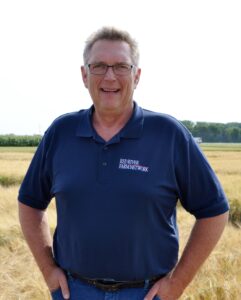 Randy Koenen
Farm Broadcaster
Randy Koenen joined the Red River Farm Network in 2007 after stops in the West Point, Nebraska and Willmar, Minnesota radio markets. Previously, he farmed for 20 years at Clara City, Minnesota. Becoming a farm broadcaster was a neutral progression, and now Koenen enjoys relaying information to farmers to help them do their business better.
Koenen served as President of the National Association of Farm Broadcasting in 2008.He has also experienced South American agriculture firsthand, traveling to Mato Grosso, Brazil. While there, he spent time in the fields looking at soybean rust and Brazilian production methods.
Aside from reporting agriculture's business, he is also a musician. He plays the pedal steel guitar and dobro in a local band, as well as plays one weekend a month at a Hope Lutheran Church – North in Fargo. Koenen and his wife Debbie have two adult children and three grandchildren. Jenny, Matt, Keyanna, Brielle and Miles live in Clara City, Minnesota. Joe is a service tech at Uglem-Ness and lives in Northwood, ND.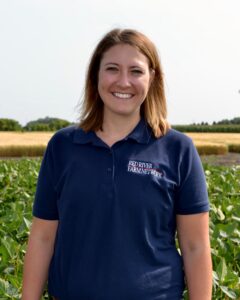 Farm Broadcaster
Carah Hart joined the Red River Farm Network team in 2015. Growing up in Missouri, she was actively involved in 4-H and the National FFA Organization, showing livestock at state events.
Hart has a Bachelor's degree in Agricultural Journalism from the University of Missouri, with an emphasis in broadcast. After graduation, she worked in public relations and project management, serving agriculture clients in the soybean, dairy and beef checkoff programs.
Carah currently serves as the NAFB West Region Vice-President. In 2018, she was awarded the NAFB Horizon Award, recognizing new farm broadcasters who show promise in the industry. She has traveled on behalf of RRFN all the way to Ecuador. Carah is also the host of engAGe: a series for women in agribusiness, an RRFN podcast focused on building leadership and highlighting career successes. In free time, she enjoys spending time with her close family, friends and corgi pup.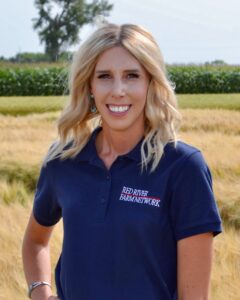 Megan Overby,
Farm Broadcaster 
Megan Overby joined the Red River Farm Network team in July of 2017. She has North Dakota roots, being raised on a third-generation diversified crop and beef cattle farm near Petersburg. Growing up she was involved with all aspects of Ternquist Farms, as well as 4-H and showing livestock.
In 2016, Megan received a Bachelor of Science degree in animal science and a minor in agricultural communications from North Dakota State University. The NDSU graduate got her start in farm broadcasting working as a farm and ranch news intern while completing her degree. This allowed her to establish agriculture relationships throughout the tri-state area.
Before joining the RRFN, Overby served farmers and ranchers in a public relations role at the Minnesota Farm Bureau Federation. She is also a current National Association of Farm Broadcasting member.
Beyond Reporting Agriculture's Business, you can find Megan farming and ranching alongside her husband Tanner near Binford, ND. Whether it's checking crops or working cattle, her camera is usually within arm's reach.