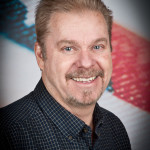 Fascinated on a field trip to a radio station in the 4th grade, Jim Babbitt has had radio in his blood for most of his life. He has worn many hats since then, as the owner of KZTK (formerly KVMI) "103.9 The Truck" since 1999, station operator, manager, advertising sales, and as a successful on-air talent with a career that spans three decades.   Jim was half of "The Ben & Jim Show," a popular radio morning drive-time program in the early 1990's. He and his partner made an impact in Fargo as the highest-rated radio show in the past 30 years.  Ben and Jim were instrumental in driving a rock station to number one in the market (which had never happened before, and hasn't happened since).  In 1997, they were selected in a nationwide search of over 400 morning shows to boost ratings at WHPT in Tampa, Florida.  After reaching number two in the market, in a single ratings period, they were promoted to WIOD in Miami, Florida.  Jim has worked for other notable stations such as WRKO in Boston as well as San Diego stations KCBQ, KKYY and XHRM. Jim has also worked for many large broadcasting companies such as Paxon Broadcasting (founders of the Home Shopping Network) Clear Channel Communications and CBS.
Above and beyond Jim's radio career, he competed professionally in Motocross Racing, and at the age of 27, he owned and operated a motorcycle dealership in San Diego, California. Later, he was a research and development engineer for several worldwide personal watercraft companies, inventing and developing over 300 products for personal watercraft, many of which are still in use today.  Jim developed and tested these products in Los Angeles, Cleveland and Düsseldorf, Germany.
One of Jim's peculiarities is that he is one of the most mechanically inclined people you will ever meet. He wired the KVMI studio, and can repair anything from a motorcycle to a car…..and even the station transmitter! After fixing a stranded car using pantyhose for a fan belt and driving it 20 miles to civilization, his best friend joked "If it isn't nuclear, Jim can fix it."
As the son of a U.S. Naval officer, Jim spent his younger years living in such diverse parts of the world as Hawaii, Iceland, Germany, Florida, Washington DC, and California.  He currently lives in Moorhead, Minnesota with his wife, Angela and two young children, Hannah and James, while his oldest son, Bryan, attends college in Alabama. Jim misses his earlier days of surfing but now spends his leisure time as a pilot as well as skiing, motorcycling, jet skiing and traveling.